Corporate Social
Responsibility
Management Fundamentals
Of the Management Fundamentals, the following describes the initiatives for "Business Continuity Plan (BCP) and risk management", "safety and industrial hygiene", and "human rights and labor practices", as well as how we engage in business activities.
Business Continuity Plan (BCP)
and Risk Management
We anticipate, prevent, and mitigate risks, but when crises arise, we protect our people, property, and profits.
Disaster preparedness activities
and evacuation drills

Using the fire at the Tochigi factory in 2003 as a lesson, all employees of the Bridgestone Group implement initial firefighting training and evacuation drills in a systematic manner to reinforce our ability to respond to disasters with strong determination, so that we never forget that day (never cause a fire). In addition, we take the utmost care to prevent disasters by detecting failures early through daily inspections for disaster preparedness to correct them without delay.

Our efforts toward
IT security

We take pride in being the only subsidiary specializing in information systems within the Bridgestone Group, preventing security-related incidents while making continuous efforts to improve security. We also obtained ISO Standard ISMS (information security) certification to periodically carry out risk assessments.
Safety, Industrial Hygiene
Safety is the foundation of the Bridgestone Group's corporate management. Each person practices to work in a safe workplace with peace of mind.
Increased participation rate in routine health checkups

In compliance with laws, all employees receive an annual health checkup. By ensuring that the employees are aware of the importance of the routine health checkup, and with a schedule comfortable for employees by taking into consideration their convenience, we achieve 100% participation in routine health checkups.

Declaration for health

We will achieve 100% participation in checkups.
We will make use of the checkup results.
We will create an environment that encourages a healthy lifestyle.
We will remember to eat healthily.
We will exercise regularly.
We will stop smoking.
We will pay attention to our mental health.

Our efforts toward smoking

Bridgestone Software is proactively promoting the government's preventive measures against second-hand smoke. To raise awareness of the harmful effects of second-hand smoke on others, we distributed a leaflet . We also hold a smoking cessation seminar to improve smokers' health, offer a subsidy for smoking cessation treatment, and implement a monthly no-smoking day.

Health promotion activities

To help employees overcome a lack of exercise, prevent adult diseases, and improve overall health, Bridgestone Software is implementing a wide array of health promotion activities. This includes various physical activities that include core training and Oxigeno training, which are convened jointly with Bridgestone Sports Arena and which is operated by one of the subsidiaries of the Bridgestone Group, Bridgestone Sports, with the goal of improving the health of employees.

White Mark

In April 2023, we were certified by the Ministry of Health, Labor and Welfare as a company with excellent safety and health (white mark).
An excellent safety and health company is a company that has been certified by the Ministry of Health, Labor and Welfare as actively working on measures to ensure the safety and health of workers and maintaining and improving high safety and health standards.
In order to receive this certification, in addition to basic matters such as no serious violations of occupational safety and health laws in the past three years, measures to maintain and improve worker health, mental health measures, measures to prevent overwork, safety management, etc. You are expected to be active in a wide range of fields.

Acquired the Corporate Health Achievement Certification

The "Excellent Health Management Organization" established by the Ministry of Economy, Trade and Industry is a certification system as a way to commend companies that carry out particularly excellent health and productivity management.
We have been certified in the "Small and Medium-Sized Corporation Category" for five consecutive years since 2017. Since 2022, when the number of employees increased, we have applied for certification in the "Excellent Health Management Corporation - Large-Scale Division" and have been certified for two consecutive years. These certifications are in recognition of our efforts to actively promote the health of our employees so that they can go about their work in a sound state of mind and body.
Human Rights, Labor Practices
As we promote fundamental human rights and responsible labor practices, we foster a corporate culture of accepting a rich diversity of people.
All the entities and business locations of the Bridgestone Group accept ethical labor practices to build trusted relationships with employees with a respect for diversity and fundamental human rights.
Diversity
Promotion of women's active participation and advancement in the workforce

We aim to create a workplace where all employees can work with a sense of fulfillment regardless of gender. One of our initiatives is to encourage employees to create a system and corporate culture for female employees, who often experience life event changes, to happily work for many years. We have set a target for the ratio of female employees and the ratio of female managers to systematically promote the active participation of women in the workforce. In addition, we support the activities of the Cosmos Club, which consists of volunteer female employees, and which takes the initiative in planning and operating seminars and discussion sessions.

Our work environment supporting a variety of human resources

We are committed to offering a work environment where people with a wide variety of values and personalities can work comfortably and play an active part. Respecting each other's personalities will lead to creating new ideas and value from a diverse array of perspectives. To create an environment where a variety of human resources are supported, we also upgrade the facilities to create a comfortable environment for employees with disabilities. Another initiative is to promote employee understanding of different cultures when working with employees with different nationalities.
Data related to diversity (*As of April 1, 2023)
The ratio of female employees

31.23%

The ratio of female managers

12.24%

The employment rate of people with disabilities

2.63%
Flexible workstyle tailored to the stage of employees' life
Childbirth leave

When female employees give birth, they can take up to six weeks of leave before childbirth (fourteen weeks for a multiple pregnancy) and up to eight weeks after childbirth. This is also known as maternity leave.

Child care leave

Until the end of the following March (can be extended to the end of April) after a child reaches the age of one and one-half years, or until the child reaches the age of two, whichever is longer, employees can take a leave of absence. Also, if employees cannot place their children in a daycare center or for other reasons, the leave of absence can be extended an additional six months. This system allows employees to take a leave of absence until their child turns two years and seven month of age at most.

Child care holiday

This allows employees to take up to 40 days of preserved paid leave if they are raising children who have not reached the age of elementary school. The child care holiday can be used to participate in nursery events and parent meetings.

Reduced working hours

This system allows employees to reduce prescribed working hours for up to three hours a day. For child care, employees can use this system until their child reaches the age of starting junior high school. For nursing care, they can use the system until the reason for needing to use the system has been resolved. Employees can also use this system during pregnancy.

Leave for spouse's childbirth

When a spouse of an employee is expecting or has given birth, employees can take up to five days of leave.

Family support leave

This allows employees to use their preserved annual paid leave to take up to five days of leave to provide nursing care for their families, participate in children's school events, to treat poor health after pregnancy, or infertility treat.

Refreshment leave

Employees who have a continuous employment period of more than 20 years and less than 21 years as of April 1 are granted five days of leave for refreshment and a 100,000-yen voucher (travel coupon) for travel expenses.

Volunteer leave

Employees can take five days of leave yearly out of their annual preserved paid leave for volunteer activities.

Flextime

This system allows employees to manage their work hours without setting the required time to be in the office.

Child nursing care leave

Employees can take up to ten days of leave yearly for each child's injuries, illness, vaccinations, and health checkups until the child reaches the age of starting junior high school.

Nursing care leave

If the employee's spouse or direct or collateral family requires nursing care, employees can focus on nursing care without leaving the company. Employees can take up to 365 days total dividedly.

Nursing care holiday

If the employee's spouse or direct or collateral family requires nursing care, employees can focus on nursing care without leaving the company. Employees can take up to 365 days total dividedly. In addition, if all the requirements for obtaining nursing care leave are met, the employee can take up to ten days of leave for each member of family yearly in half-day units. They can take up to 40 days of leave for nursing care.

Welcome back system

This system allows former employees to work for the company again if they left the company for child care, nursing care, or to accompany a spouse who was transferred.

Teleworking

To help employees enhance their private lives and improve work productivity, we adopt teleworking that allows for diverse and flexible workstyles. Employees can change where and when they work according to family circumstances and work descriptions to balance child care or nursing care with work.

Web conference system

The Web conference system has been introduced to help employees share information and make decisions in a timely manner, whether they are on the go or in a remote location. They can hold discussions while viewing the same materials without being in the same space, allowing for workstyle changes and improved productivity.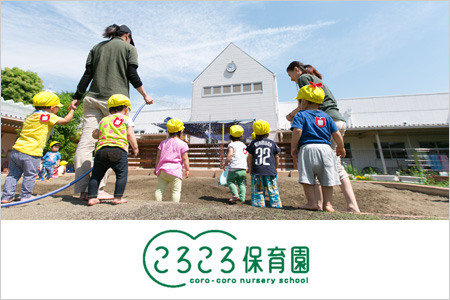 Korokoro Nursery
Korokoro Nursery is for employees of the Bridgestone Group to achieve a balance between work and child care. Korokoro Nursery has been increasingly seeing more male employees and not just female employees year by year. We provide a workplace where both men and women can raise children while working comfortably.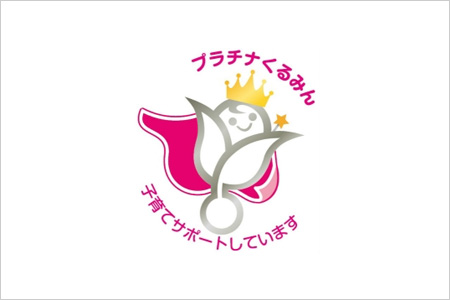 Platinum Kurumin
In 2014, we acquired the "Kurumin" certification from the Ministry of Health, Labor and Welfare as a "childcare support company" that is enthusiastically working to support the balance between work and childcare. In 2017, the Bridgestone Group became the first company to receive the "Platinum Kurumin" certification, which is given to companies that are making even higher standards of efforts.
In recent years, we have held childcare support system briefings for managers and male employees, and in 2022 we achieved a childcare leave acquisition rate of 50% for male employees. We are currently promoting various activities with the aim of becoming a company where employees can balance childcare and work regardless of gender.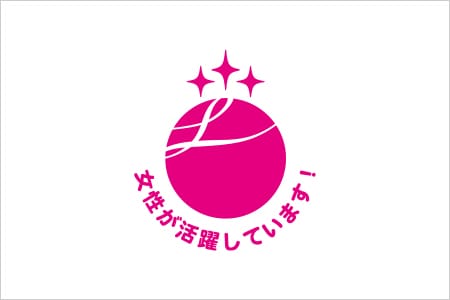 L-boshi
We have acquired "L-boshi" certification for the first time in BRIDGESTONE group , which is given by Ministry of Health, Labour and Welfare to companies with excellent implementation status of woman's a dvancement initiatives in 2021.
"L-boshi" is classified into Level 1 to 3 depend on the status of efforts, and we have acquired the highest Level 3.
Work environment
Our office is designed to facilitate communication between employees and help create connections with people in and out of the company. Each employee has access to new information at all times to increase their opportunities to try new things.
We encourage employees to create new ideas to bring innovation for further growth and development as a person.
Head office

Communication hub

Family restaurant-style booth

presentation room

Quiet booth

Entrance

Personal quiet booth

Open space

Kyushu Office
Job Opportunities
Bridgestone Software is recruiting new staff to join our team.