Corporate Social Responsibility
Under the mission of the Bridgestone Group, "Serving Society with Superior Quality", Bridgestone Software is committed to raising the level of CSR activities,
in order to bring sustainable solutions to social challenges, and to realizing a society where everyone can exercise their full potentia through day-to-day activities.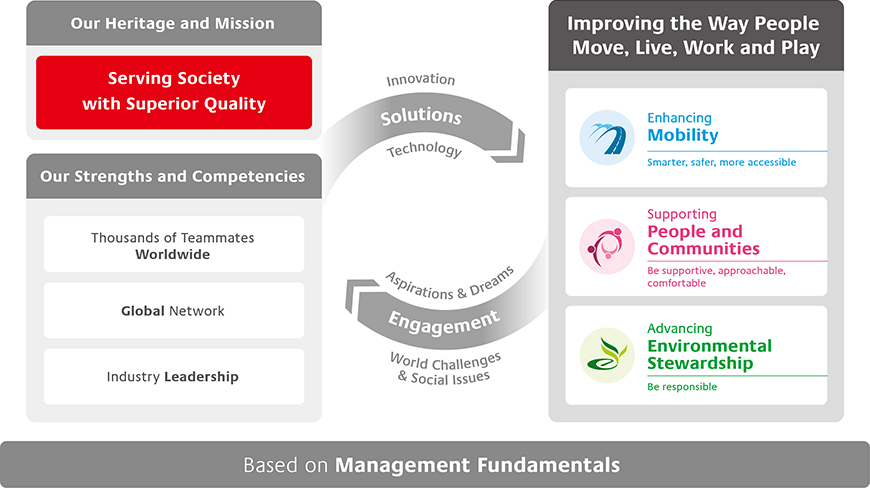 Vision
"Understanding that Serving Society with Superior Quality is our heritage and our mission, and embracing our responsibility to future generations as a global leader in our industries, Bridgestone and its teammates around the world employ innovation and technology to improve the way people move, live, work and play."
Priority Areas
Mobility
Accessible mobility
Smart mobility
Safe transportation
People
Contributing to a safer society
Accessible and inclusive education
Promoting healthier communities
Environment
In harmony with nature
Reduce CO2 emissions
Value natural resources
Management Fundamentals
Compliance, Fair Competition

Business Continuity(BCP), Risk Management

Human Rights, Labor Practices

Safety, Industrial Hygiene

Quality and Customer Value
Priority Areas

Among the CSR activities of the Bridgestone Group, "Mobility", "People", and "Environment" are positioned as areas of focus.

Management Fundamentals

Of the Management Fundamentals, the following describes the initiatives for "business continuity (BCP) and risk management", "safety and industrial hygiene", and "human rights and labor practices", as well as how we engage in business activities.
Job Opportunities
Bridgestone Software is recruiting new staff to join our team.